Before you shrug off the idea of video for your small business, let's look at some compelling reasons why video is important.
52% of consumers say that 

watching product videos makes them more confident in their online purchase decisions

. (Internet Retailer, 2012)
Visitors who view product videos are 85% more likely to buy. (Internet Retailer, April 2010)

More than three out of five consumers will spend at least two minutes watching a video that educates them about a product they plan to purchase. (MarketingCharts.com, 2012)
Video results appear in about 70% of the top 100 listings. (Marketing Week, 2011)
Pages with video attracted 2-3x as many monthly visitors, doubled time on site, and achieved a 157% increase in organic traffic from search engines. (MarketingSherpa, December 2011)
76% of marketers plan to add video to their sites, making it a higher priority than Facebook, Twitter, and blog integration. (Social Media Examiner, April 2012)
So let me ask you, is it time to add video to your internet marketing strategy? YES!
How to get started. It doesn't have to be a big deal!
I know you want your videos to be "professional grade" and you're right. That's the ultimate goal. But even a homemade video is better than no video at all.  So grab a video camera or a smartphone and go for it! First, let's figure out what the video should be about. What's your most profitable product? What questions do your customers often ask? What instruction do you find yourself repeating each time you sell a particular item? Great. Now demonstrate the features of the product and provide instructions on how to use it. Keep it simple and to the point. Try to keep the video around one to three minutes.
Or, simply take some video of you and your team in your day to day. Capture a concrete patio installation, or a client eating one of your juicy hamburgers. How about a video of your mechanics in action, or even a little footage of that outdoor wedding using your chairs, tables, linens and tent (if it's cool with the bride.) This kind of footage is great for your site, but it's also perfect for social media sharing.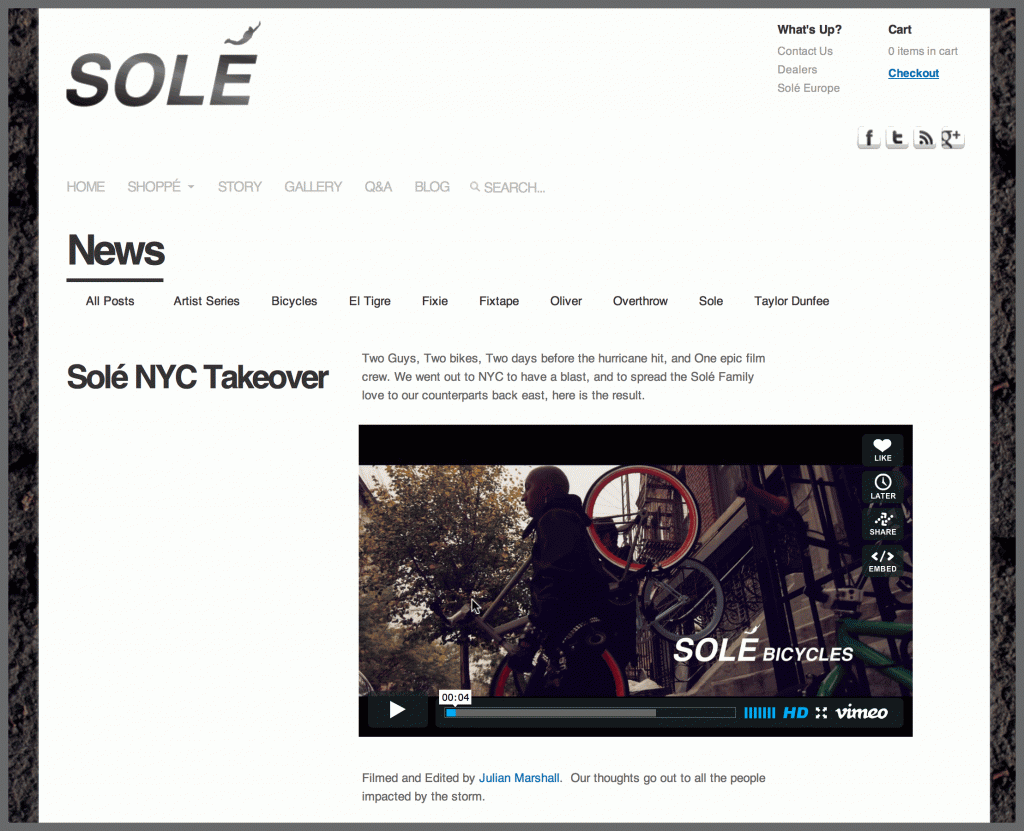 Create an account on YouTube (or another video site like vimeo) and upload your video. Title the video using your business name and the product name(s) or the service you provide. Add a robust description for the search engines. Once the video is uploaded, use the share features to share the video on your social networks and also embed the video on your site. Ideally, every product or service that you offer would have a video counterpart uploaded on YouTube and embedded on the site near your product description. If that sounds overwhelming, try adding one video a week to start.
Be sure to:
Use a tripod. Shaky videos appear unprofessional and annoying.
Make sure lighting is good and the video image is clear.
Be articulate and speak at a reasonable pace.
Why do this?
Besides all the stats that we've already covered, search engines love video. If your website has textual content, images and video coverage of the things you offer, yours will be considered the more authoritative site and it will have the best opportunity to rank high on Google.
Video can capture the attention of your site visitors and endear them to you as a person, not just a faceless online business. Don't underestimate the power of your smile and sincerity. Video can show that to your potential customers.
What about a professional video?
Consider your customer, the potential ROI and your marketplace, where first impressions are critical. Hiring professionals to capture unique services, products, features and client testimonials is a great idea too! Of course, it may not make sense to bring in the big guns for just one product/service story… but a professional video production company can shoot many pieces in a couple of hours and help you create effective targeted videos that you'll be proud of. A professional video can help you tell your story and compel potential clients to want to do business with you. I asked the team at WebRocket Video what a small business should look for when hiring a professional video production company. Here's what they suggested:
First of all, most video packages can be created for less than it costs to create a box of brochures. These videos are dynamic and can be changed seasonally, updated with new products or services, adapted for specific audiences for purposes like trade shows, and customized with partner logos or contact information in an instant – unlike static brochures or flyers.
Is the ROI there? You shouldn't spend the money to have something created if the margins are too tight. Think of opportunities for growth or new business development. What are the difference makers to your bottom line? Target those products or services instead.
Create authentic stories around your products, services and ultimately your people. They are the glue to repeat and referral rentals.
As for choosing a video production crew, consider their previous projects, investment, and ultimately their ability to relate to your business and market. Anyone can shoot video. But do they understand how to effectively communicate your message? The team you hire should be an extension of your own marketing and creative team's efforts. Make sure they index and archive everything they shoot so that they can create custom pieces quickly as the need arises; a news article, social media campaign, cable TV spot, whatever you need.
Let me sum it all up for you. Video is hot. If you're not doing it yet, you will be (or should be) soon. Video is great for clients, making them feel more confidence in your business and encouraging them to buy. Video is great for SEO. Search engines like them and see your business as the authority. Videos don't have to be difficult! Shoot some video with your iPhone or any portable camera and upload it to YouTube. And lastly, a professional video production company can help you take your video strategy to the next level when you're ready.
Are you ready? Thanks for reading.
David McBee