One of the first things most SEOs do when trying to get their sites to rank is to review the sites that are currently ranking well. It simply stands to reason that if their competitors' sites are ranking, then duplicating what they are doing will likely help them get their own site ranking well too. In fact, that's really the cornerstone of SEO. See who's ranking well, analyze what they are doing and duplicate their strategies.
When Google's Penguin algorithm upset the rankings a few months ago, SEOs rushed to page one to see who Google was favoring. Analysis of the sites ranking indicated a lot of things, but one thing stood out… a good balance in backlink anchor text was key to ranking well.  Sites that had over optimized their anchors were dropping like AOL users in 2001.
It's really not hard to use a tool like SEOMoz's Open Site Explorer to see practically the whole backlink profile of any website.
If yours is the site ranking on page one, how do you protect your site from being pillaged by your competitors? How do you keep your transparent backlink profile private? For the most part, you can't. Anyone can crawl the web and report backlinks. It's public information. But, there is a strategy that some use known as layering.
What is Layering?
Layering is the process of building backlinks to your backlinks. Instead of focusing on links that point directly to your main site, you build links to sites that are already linking to you with the idea that most of the "link juice" will get passed through those other links and onto your site. Many people will even build the first layer themselves so that they can control the pages and content and make sure there is only one (or a very limited number of ) link(s) back to the main site. WordPress pages, bloggger sites, Squidoo lenses, even article sites can serve as pages that can pass along the link juice.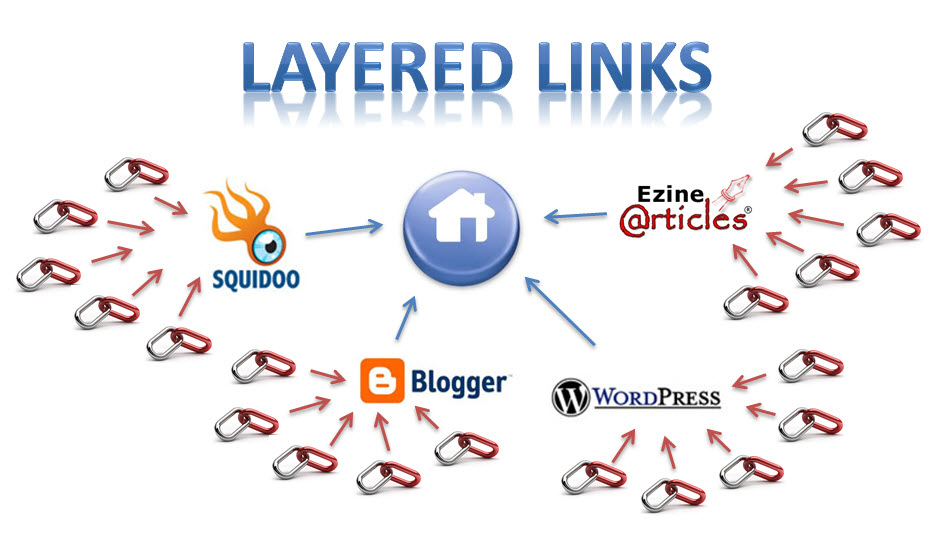 While I've been talking about building links, that's not to say that you can't also earn links to this first layer of sites. By making these sites awesome and creating share-worthy, amazing content, it's very possible that these sites will get their fair share of natural links. Post videos and infographics on these pages to encourage backlinks and social sharing. Make sure your articles are educational, interesting or even controversial. This will make the strategy that much more authentic in the eyes of the search engine.
Another benefit to creating this layer of links and building backlinks directly to them is that often these pages will rank well when searches look for you by name. Besides your own site, your LinkedIn and your twitter page showing up, now the search engines have more content that is specific to your company.  This is great for online reputation management (ORM) and for presenting a professional image to anyone doing research on your company.
To recap, here are the benefits of layering:
Layering disguises your backlink profile from competitors.
Layering creates more optimized properties that you control – great for ORM.
Layering allows you to create more amazing content that can earn more backlinks.
"Link Juice" is passed through the layered properties, optimizing the main site.
Thanks for reading
David McBee